View of arbitrators
Insurance books should not be used as collateral
06/03/2018 17:09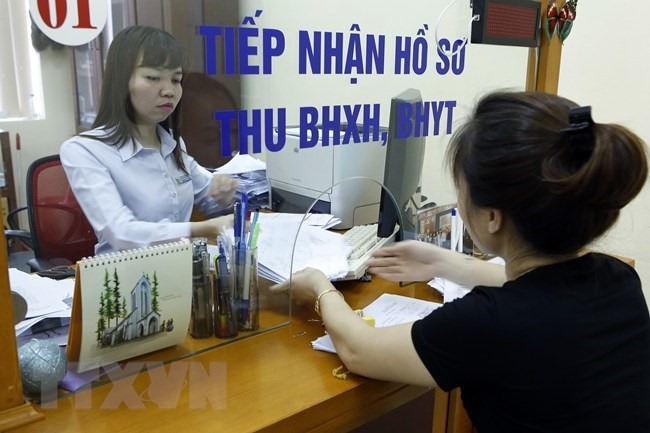 More cases are being reported in which social insurance books are being taken to commercial banks and used as collateral. — VNA/VNS Photo
HÀ NỘI — Lawmakers, lawyers and leaders from Vietnam Social Security (VSS), a State agency in charge of the country's social insurance programme, have all advised against the practice of using social insurance books as collateral by banks, credit institutions and small loan businesses at a conference last week on the subject.  
The experts cited numerous legal issues and the high risk associated with the practice, which has frequently been reported since last year, especially among workers in industrial zones.
The country's new Social Insurance Law, which came into effect in 2016, allowed workers to hold their own social insurance books. The move was a drastic departure from an earlier version of the law which made employers the responsible party for keeping the books.
Lawmakers were prompted to change the regulation after several problems surfaced, including soaring social insurance debt and even fraud in some cases due to a lack of awareness among workers regarding their own rights as well as their inability to keep track of their employers' social insurance payments made on their behalf.
Giving workers their social insurance books helped eliminate the above-mentioned problems, keep workers informed of their status and progress, and save employers' time and expenses in keeping a record of workers' insurance files, said deputy director of VSS, Trần Đình Liệu  
"Due diligence was taken by social insurance agencies and employers to ensure the books, when handed to workers for safe-keeping, were up-to-date and complete," Liệu said.
More cases are being reported in which books are taken to commercial banks and used as collateral. The VSS branch office in the south-central province of Phú Yên even notified VSS head office that they had received requests from the banks to co-operate with legal proceedings in such cases.
"As of this moment, there are no laws that prohibit the use of those books as collateral. There are also no laws that require VSS to comply with such requests from the banks. An official ban on this practice must be in place to stop these high-risk transactions," said lawyer Trương Thanh Đức, VIAC Arbitrator.
Liệu said that while these transactions are of a civil nature and not prohibited, social insurance payouts would only be made to workers who managed to meet all requirements of their insurance scheme.
"VSS will not authorise payouts to be made to the banks. It's entirely their responsibility and their risk if they choose to proceed with such transactions," said the deputy director, "We (VSS) have informed and advised commercial banks, credit institutions and small loan businesses against taking the books as collateral."
There have been cases of workers, after using their books as collateral to take out loans, reporting them as missing and requesting replacements. VSS offices were told to refuse such requests.
Experts at the conference also pointed out that there is currently no acceptable method to determine the monetary value of social insurance books. In the event that the books' owner dies, they will be invalidated and can't be cashed in. Furthermore, the use of those books as collateral defeats the country's social insurance scheme's mission: to mitigate the adverse effects of undesirable events that may happen to the insured such as sickness and unemployment. — VNS

Read more at
http://vietnamnews.vn/society/422874/insurance-books-should-not-be-used-as-collateral.html#ocpgGeFCqdvCvJti.99
Share Post